• Copper bird sculpture • Copper owl sculpture • copper pumpkin • metal owl • owl sculpture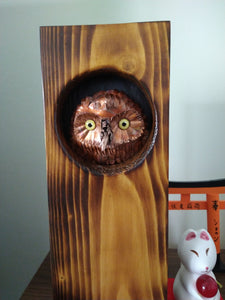 Recently made this little owl face peeking from a hole in wood. It can be free standing or hung on the wall. I intend making more owls in this fashion. Also had a commission for a pumpkin that was challenging to construct but got there in the end.         
---
• barn owl • Copper bird sculpture • metal bird • metal owl • owl sculpture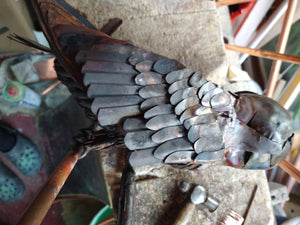 I've been working on a barn owl sculpture. It's slow progress as I've been working around other projects. Each 'feather' has been individually brazed in place and it's slowly taking shape. Here are some photos of the work in progress from the sketch, skeletal frame to the fleshing out.    
---
• Copper bird sculpture • Copper hummingbird • Copper wren • Hummingbird sculpture • Metal bird sculpture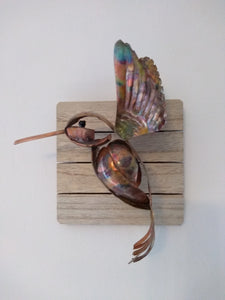 I have an Etsy made local artisan event coming up on December 1st (https://www.visitcheshire.com/whats-on/etsy-made-local-nantwich-christmas-artisan-market-p254371), which I'm busy making items for. Among the things I'm making are a number of copper bird sculptures. I love making these handmade birds. Each one is unique as there's no template, so I fashion them totally freehand. Pictured here are a little wren and a hummingbird.