• Copper sculpture • Copper sculptures • metal artwork • owl sculpture • Viridian Gallery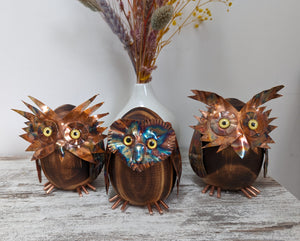 If anyone is in the beautiful area of Keswick in The Lake District, you can now purchase some of my artwork in Viridian Gallery https://viridiangallery.co.uk  You'll find a vast range of artists work in the gallery so it's well worth a visit with the added bonus of scenic locations all around the area. 
---
• copper artwork • copper bird bath • copper birdbath • copper garden sculptures • copper sculptures • garden design • garden design ideas • garden ideas • landscaping • metal artwork • metal sculpture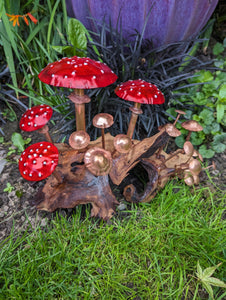 Copper is a beautiful and versatile material that can be used to create a variety of garden sculptures, ornaments, and other decorative items. Deshca Designs specialises in creating handmade copper work for the home and garden. Our pieces are all unique and handcrafted, and they add a touch of elegance and sophistication to any outdoor space. Whether you have a small urban garden or a large country estate, Deshca Designs copper work can be a great way to add interest and beauty to your space. Here are a few ideas for incorporating our work into your garden: Birdbaths: A copper...
---
• copper art • copper mines • copper mining • copper sculptures • metal sculpture • wheal propser • wheal trewavas
We've just returned from a trip to Cornwall, and due to my occupation working with copper, I took the opportunity to visit the remains of the Wheal Prosper tin mine and the Wheal Trewavas copper mine where the material used to be mined. Wheal Trewavas is about 1.5 miles west of Porthleven and while only the ruins of the engine houses remain, it's still an interesting place to visit with the buildings clinging stoically to the edges of the cliffs. In its heyday the mine employed around 160 men until it was eventually flooded and abandoned around 1846.  Copper mines...
---
• alcohol ink art • art in the pen • copper • copper art • Copper sculptures • copper wall art • Metal design • Metal sculpture • wall art • wall sculpture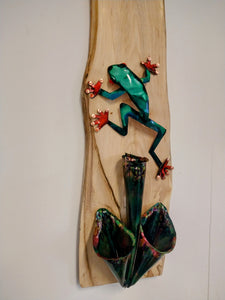 It's been a while since I've updated the blog, but just a quick one to say I've been accepted for the "Art in the Pen" art and craft fair in Skipton in August. I don't do many craft fairs but I went to this one as a visitor last year and thought it was excellent with a really high calibre of exhibitors, which is why I applied. In preparation for this I've been making lots of new wall hangings using copper with wood backgrounds. I've also been using alcohol ink and pyrography so lots of different things will be available...
---
• Anglerfish • copper • Copper anniversary • copper art • copper birds • copper fish • Copper gift • copper sculptures • copper wall art • metal sculptures • metal wall art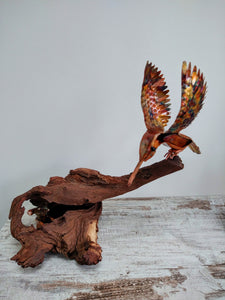 I've added a number of original sculptures to the website in the last few weeks. It's always fun to create unique pieces. Lots of new nature based wall hangings. Pictured below are just a few.