• butter • copper wall art • copper wall hanging • gingko leaf • metal wall art • subjective art • wall art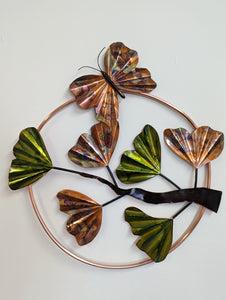 Art is a subjective experience. It is something that is created by the artist, but it is also interpreted by the viewer. Each person will have their own unique reaction to a piece of art, and no two people will see it exactly the same way. This is what makes art so special. It is a way for us to connect with each other on a deeper level, and to share our own unique experiences and perspectives. Take for example this piece I made. I was looking to make a wall hanging featuring gingko leaves, but while making the leaves...
---
• art • copper • Copper anniversary • copper art • copper crafts • Copper gift • copper gifts • copper items • Copper sculpture • copper wall art • copper work • Gladstone pottery museum • great pottery throwdown • metal art • Metal design • metal wall art • stoke-on-trent • wall art • wall sculpture
I was inspired while watching The Great Pottery Throwdown to make a picture of the Gladstone Pottery Museum where the series is filmed, with the iconic bottle kilns that Stoke-on-Trent is famous for. The picture is all copper. Flame coloured on the kilns and buildings and alcohol ink on the copper sheet background.    I've also made a piece with copper butterflies painted with alcohol ink that I call 'The Great Escape' as one butterfly is outside the frame representing that it's either escaped or hasn't yet been pinned to the board. It's up to the viewer to decide.   ...
---
• art in the pen • copper art • copper crafts • copper wall art • metal art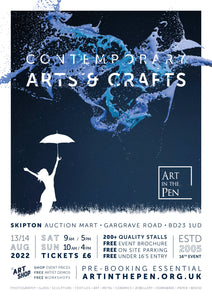 Tickets are now available for Art in the Pen in Skipton, which I have a spot booked for. I'll be selling lots of unique items, including one of a kind metal wall art pieces along with some mixed media, combining copper items with wooden backgrounds. Tickets for the two day event are available at: http://www.artinthepen.org.uk There are going to be around 200 stalls, all with outstanding items for sale, so you're sure to find something you like.   
---
• copper sunflower • copper wall art • sunflower • sunflower for Ukraine • Ukrainian Appeal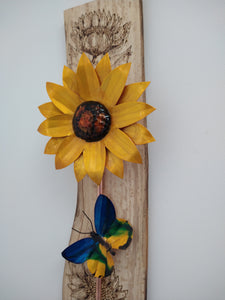 I'm auctioning off this latest piece with all proceeds going to the Red Cross Ukrainian Appeal. Thanks looking and hopefully bidding.Ukrainian Appeal#deshcadesigns #ukranianappeal #copperwallart #sunflowersforukraine #sunflower
---
• alcohol ink art • art in the pen • copper • copper art • Copper sculptures • copper wall art • Metal design • Metal sculpture • wall art • wall sculpture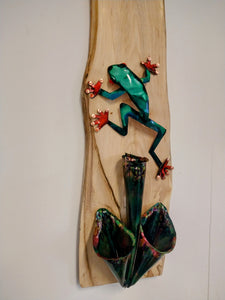 It's been a while since I've updated the blog, but just a quick one to say I've been accepted for the "Art in the Pen" art and craft fair in Skipton in August. I don't do many craft fairs but I went to this one as a visitor last year and thought it was excellent with a really high calibre of exhibitors, which is why I applied. In preparation for this I've been making lots of new wall hangings using copper with wood backgrounds. I've also been using alcohol ink and pyrography so lots of different things will be available...