• copper art • copper mines • copper mining • copper sculptures • metal sculpture • wheal propser • wheal trewavas
We've just returned from a trip to Cornwall, and due to my occupation working with copper, I took the opportunity to visit the remains of the Wheal Prosper tin mine and the Wheal Trewavas copper mine where the material used to be mined. Wheal Trewavas is about 1.5 miles west of Porthleven and while only the ruins of the engine houses remain, it's still an interesting place to visit with the buildings clinging stoically to the edges of the cliffs. In its heyday the mine employed around 160 men until it was eventually flooded and abandoned around 1846.  Copper mines...
---
• copper frog • frog • frog art • frog decor • frog decoration • frog sculpture • garden art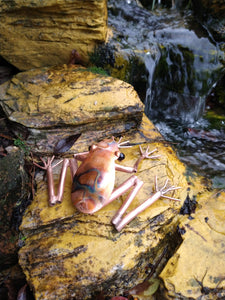 Just added some frogs to the shop. Fun to make and look great either inside or outside.
---
• art • copper • Copper anniversary • copper art • copper crafts • Copper gift • copper gifts • copper items • Copper sculpture • copper wall art • copper work • Gladstone pottery museum • great pottery throwdown • metal art • Metal design • metal wall art • stoke-on-trent • wall art • wall sculpture
I was inspired while watching The Great Pottery Throwdown to make a picture of the Gladstone Pottery Museum where the series is filmed, with the iconic bottle kilns that Stoke-on-Trent is famous for. The picture is all copper. Flame coloured on the kilns and buildings and alcohol ink on the copper sheet background.    I've also made a piece with copper butterflies painted with alcohol ink that I call 'The Great Escape' as one butterfly is outside the frame representing that it's either escaped or hasn't yet been pinned to the board. It's up to the viewer to decide.   ...
---
I've now reopened the online shop, and I've also now got a cabinet with some of my stuff for sale at Dagfields in Emporium 7 for anyone in the area. People often say that my items look better in real life than in the photos so I hope people get chance to put this to the test if they're around that way.
---
Due to the current postal strikes with Royal Mail, which are having a knock on effect with other postal services, I've had to take the decision to close my shop until the New Year rather than disappoint customers who order in the hope of receiving something for Christmas. Apologies about this and thank you for the support and interest in my work.  Shaun