• art • copper art • copper gifts • coppersmith • metal sculpture • metal sculpture uk • pyrography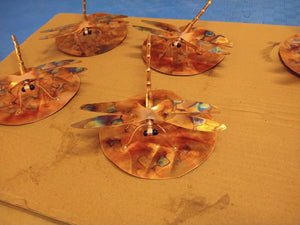 I haven't had a lot of time lately to create much original work, but I've been continuing with my bread and butter makes, the bird baths, bee baths, bird feeders and calla lilies. In my spare time I've also been experimenting with pyrography, which means writing with fire. Obviously this is totally different to metal sculpture as it involves burning onto wood, but I'm hoping to add it as another string to my creative bow. I find it quite therapeutic to do, even though it takes a long time to create a piece. In other news the Art in the...
---
• art in the pen • copper art • copper crafts • copper wall art • metal art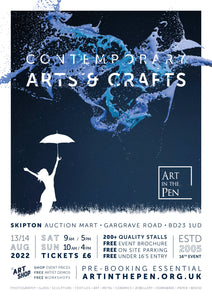 Tickets are now available for Art in the Pen in Skipton, which I have a spot booked for. I'll be selling lots of unique items, including one of a kind metal wall art pieces along with some mixed media, combining copper items with wooden backgrounds. Tickets for the two day event are available at: http://www.artinthepen.org.uk There are going to be around 200 stalls, all with outstanding items for sale, so you're sure to find something you like.   
---
• copper sunflower • copper wall art • sunflower • sunflower for Ukraine • Ukrainian Appeal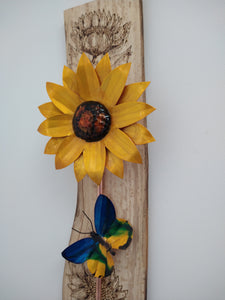 I'm auctioning off this latest piece with all proceeds going to the Red Cross Ukrainian Appeal. Thanks looking and hopefully bidding.Ukrainian Appeal#deshcadesigns #ukranianappeal #copperwallart #sunflowersforukraine #sunflower
---
• alcohol ink art • art in the pen • copper • copper art • Copper sculptures • copper wall art • Metal design • Metal sculpture • wall art • wall sculpture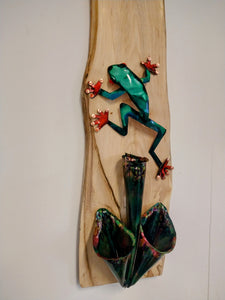 It's been a while since I've updated the blog, but just a quick one to say I've been accepted for the "Art in the Pen" art and craft fair in Skipton in August. I don't do many craft fairs but I went to this one as a visitor last year and thought it was excellent with a really high calibre of exhibitors, which is why I applied. In preparation for this I've been making lots of new wall hangings using copper with wood backgrounds. I've also been using alcohol ink and pyrography so lots of different things will be available...
---
There are quite a few new items available exclusively on the website at the moment. These include unique fairy doors and various other wall hangings. With Christmas around the corner these would all make wonderful gifts. There's also been a revamp of the company name logo on the header. And if you'd like a custom order, please contact me to discuss.