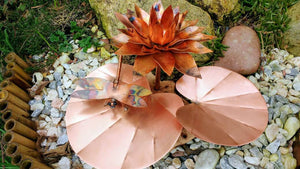 Featured are pictures of some of the copper sculptures that I've made over the last couple of years. Traditionally copper is given as a 7th anniversary gift and also a 22nd anniversary gift, but it makes a wonderful gift for any occasion or reason. Copper is a wonderful material to work with and while it takes on the appearance of gold when polished, applying heat can produce myriad other colours, which adds to its appeal.  People are reputed to have been using copper for at least 8,000 years, and with the advent of creating copper alloys with the addition of...
---
• Copper dragon • Design process • Metal design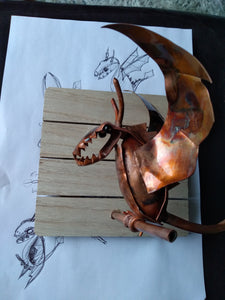 I thought I would show one of my creative processes from design to finished copper sculpture. I don't always sketch ideas as sometimes I work purely by sight and cut the copper to suit, but in this case I made a couple of rough sketches first to get an idea of how the finished sculpture would look. Now although there doesn't look a lot to it, small items like this copper dragon can be hard to make when brazing. If the heat is applied for too long in one area, it can lead to melting the previous braze used to...
---
• Copper bird sculpture • Copper hummingbird • Copper wren • Hummingbird sculpture • Metal bird sculpture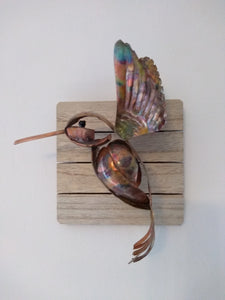 I have an Etsy made local artisan event coming up on December 1st (https://www.visitcheshire.com/whats-on/etsy-made-local-nantwich-christmas-artisan-market-p254371), which I'm busy making items for. Among the things I'm making are a number of copper bird sculptures. I love making these handmade birds. Each one is unique as there's no template, so I fashion them totally freehand. Pictured here are a little wren and a hummingbird.
---
• Anglerfish • Copper anglerfish • Copper sculptures • New sculptures • Store news
I've always been fascinated with the ocean, not least because it's the closest to an alien world we have.