• Copper bird sculpture • Copper owl sculpture • copper pumpkin • metal owl • owl sculpture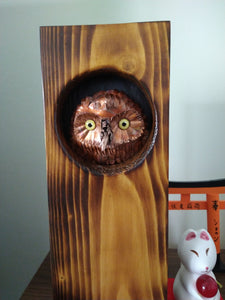 Recently made this little owl face peeking from a hole in wood. It can be free standing or hung on the wall. I intend making more owls in this fashion. Also had a commission for a pumpkin that was challenging to construct but got there in the end.         
---
• Copper face mask • Covid reminder • Face mask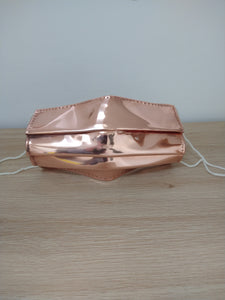 I had an unusual request the other day from someone who wanted an ornamental copper face mask for someone who has been shielding, to give them a bit of a laugh and as something to look back on in years to come.  
---
• barn owl • Barn owl sculpture • Copper owl • Metal owl sculpture • Owl art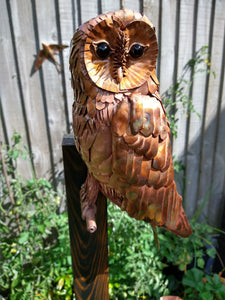 Finally finished the copper barn owl sculpture. Nearly every 'feather' was individually brazed in place. The difficulty with brazing is that continual heat is applied to melt the brazing rod, which often inadvertently melts the brazing that's already been fixed, meaning bits that have been fixed in place can drop off! It's often frustrating!  Here are some more progress pictures and the finished sculpture.   
---
• barn owl • Copper bird sculpture • metal bird • metal owl • owl sculpture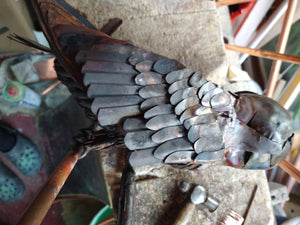 I've been working on a barn owl sculpture. It's slow progress as I've been working around other projects. Each 'feather' has been individually brazed in place and it's slowly taking shape. Here are some photos of the work in progress from the sketch, skeletal frame to the fleshing out.    
---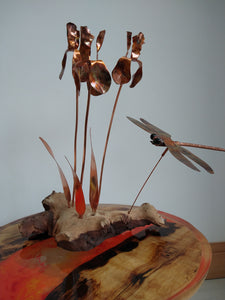 I haven't posted here for quite a while, but that doesn't mean I've been slacking. Far from it. I've been busy just keeping on top of regular orders, so I've not had time to make much original stuff lately, but there are a couple of additions and more in the pipeline ...