• Artisanity • copper art • copper artwork • Copper gift • copper items • copper poppy • Copper sculpture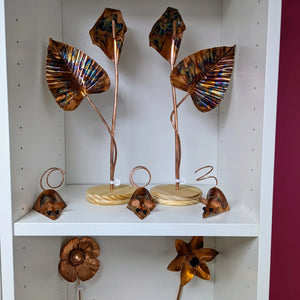 You can now find a selection of my work in Artisanity near Congleton. Artisanity.co.uk    
---
• copper art • copper mines • copper mining • copper sculptures • metal sculpture • wheal propser • wheal trewavas
We've just returned from a trip to Cornwall, and due to my occupation working with copper, I took the opportunity to visit the remains of the Wheal Prosper tin mine and the Wheal Trewavas copper mine where the material used to be mined. Wheal Trewavas is about 1.5 miles west of Porthleven and while only the ruins of the engine houses remain, it's still an interesting place to visit with the buildings clinging stoically to the edges of the cliffs. In its heyday the mine employed around 160 men until it was eventually flooded and abandoned around 1846.  Copper mines...
---
• art • copper • Copper anniversary • copper art • copper crafts • Copper gift • copper gifts • copper items • Copper sculpture • copper wall art • copper work • Gladstone pottery museum • great pottery throwdown • metal art • Metal design • metal wall art • stoke-on-trent • wall art • wall sculpture
I was inspired while watching The Great Pottery Throwdown to make a picture of the Gladstone Pottery Museum where the series is filmed, with the iconic bottle kilns that Stoke-on-Trent is famous for. The picture is all copper. Flame coloured on the kilns and buildings and alcohol ink on the copper sheet background.    I've also made a piece with copper butterflies painted with alcohol ink that I call 'The Great Escape' as one butterfly is outside the frame representing that it's either escaped or hasn't yet been pinned to the board. It's up to the viewer to decide.   ...
---
• art • copper art • copper gifts • coppersmith • metal sculpture • metal sculpture uk • pyrography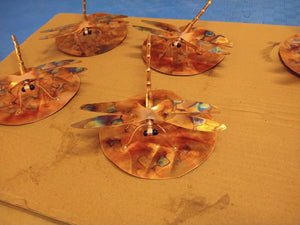 I haven't had a lot of time lately to create much original work, but I've been continuing with my bread and butter makes, the bird baths, bee baths, bird feeders and calla lilies. In my spare time I've also been experimenting with pyrography, which means writing with fire. Obviously this is totally different to metal sculpture as it involves burning onto wood, but I'm hoping to add it as another string to my creative bow. I find it quite therapeutic to do, even though it takes a long time to create a piece. In other news the Art in the...
---
• art in the pen • copper art • copper crafts • copper wall art • metal art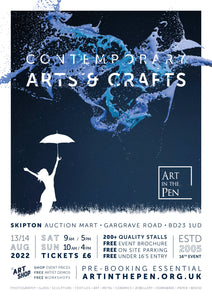 Tickets are now available for Art in the Pen in Skipton, which I have a spot booked for. I'll be selling lots of unique items, including one of a kind metal wall art pieces along with some mixed media, combining copper items with wooden backgrounds. Tickets for the two day event are available at: http://www.artinthepen.org.uk There are going to be around 200 stalls, all with outstanding items for sale, so you're sure to find something you like.