• Copper sculpture • Copper sculptures • metal artwork • owl sculpture • Viridian Gallery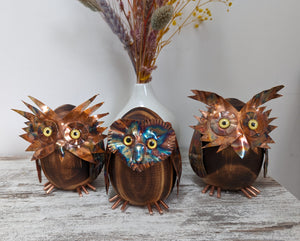 If anyone is in the beautiful area of Keswick in The Lake District, you can now purchase some of my artwork in Viridian Gallery https://viridiangallery.co.uk  You'll find a vast range of artists work in the gallery so it's well worth a visit with the added bonus of scenic locations all around the area. 
---
• art in the pen • copper artwork • copper sculpture • copper toadstools • fairy garden art • garden art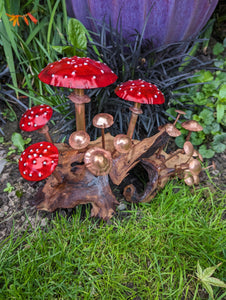 Only a few days to go now before Art in the Pen. https://www.artinthepen.org.uk There are still tickets available for a couple of time slots for visitors. I've been making a few different items for the event. Should be a great event.  
---
• art • copper • Copper anniversary • copper art • copper crafts • Copper gift • copper gifts • copper items • Copper sculpture • copper wall art • copper work • Gladstone pottery museum • great pottery throwdown • metal art • Metal design • metal wall art • stoke-on-trent • wall art • wall sculpture
I was inspired while watching The Great Pottery Throwdown to make a picture of the Gladstone Pottery Museum where the series is filmed, with the iconic bottle kilns that Stoke-on-Trent is famous for. The picture is all copper. Flame coloured on the kilns and buildings and alcohol ink on the copper sheet background.    I've also made a piece with copper butterflies painted with alcohol ink that I call 'The Great Escape' as one butterfly is outside the frame representing that it's either escaped or hasn't yet been pinned to the board. It's up to the viewer to decide.   ...
---
• bird feeders • copper • copper art • Copper sculpture • garden sculpture • hanging bird feeder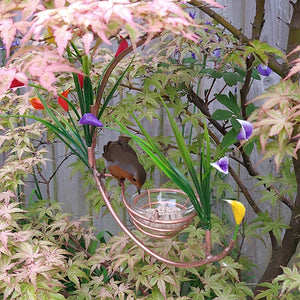 I've been making some different bird feeders lately for our feathered friends. Photos are of some of the designs. If there's something in particular you wanted, shoot me an email to discuss.
---
• copper art • copper roses • copper sculpture • copper wall art • metal wall art • roses • wall art • wall sculpture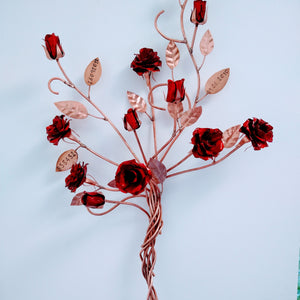 My latest custom order was for a wall hanging featuring some roses. Here are pictures of my design and the finished piece. The flowers were stained with alcohol ink which really makes them pop. When coated with lacquer they have an almost metallic sheen.